Holiday Cards
Of course, holidays are the occasion where most people give
special cards. We love holidays and love giving cards for the
seasons.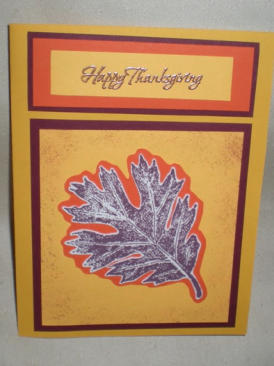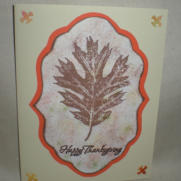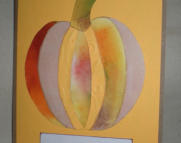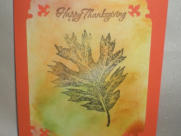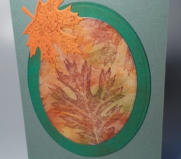 Fall colors are always warm and inviting. We used several
different techniques to incorporate those warm colors into
our Thanksgiving cards.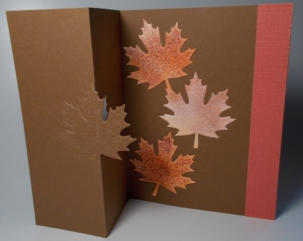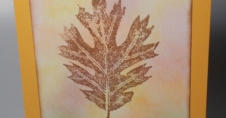 We use a lot of different techniques when we make our
cards. Backgrounds are "colored" by sponging ink colors
onto the paper. The leaves on the brown card are die cut
and then shaded with various other ink colors. The card
can be folded as a regular card or as a tri-fold card like
this brown card. The edges of the backgrounds always
have more dimension if we shade them with dark ink, or
line them with another color of paper.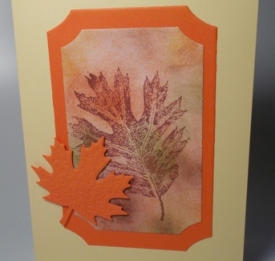 We don't always stick with the absolutely traditional.
The card with the tree could be used for nearly any
season, but when colored this way, it becomes a lovely
Thanksgiving card. Added embellishments for some of
these are die cuts, some are leaves punched from
colored paper and some are die cuts or foam craft
shapes.









Our Christmas cards are almost always unique. One
year we decided to cut out words from patterened paper,
attach them to the outside of a plain colored card, and
add a few embellishments to finish them off. You can
see from a couple of the smaller photos that we had an
assembly line going to get all of these cards done. On
the inside we had a fold-out piece that had the name of
the family cut out. Some of the other photos show cards
we have done for other years, or used as last minute
backups.
We don't like to give just plain Christmas cards. We like
them t be unique, so each Christmas we try something a
little different. The green card in the center was the first of
our unusual cards. We had several designs, but this one has
the bells and the word PEACE that pop out when the card is
open, and the names were cut out of the background.
The top card actually was a do-it-yourself card in its own
box. We included instructions on how to assemble it for
display. The green tree pops up to make a 3D Christmas
tree.
The bottom card has an open window that showed part of
the inside design The outside was finished with a spray of
white paint to make it look like snow.

Hand made greeting cards for all occasions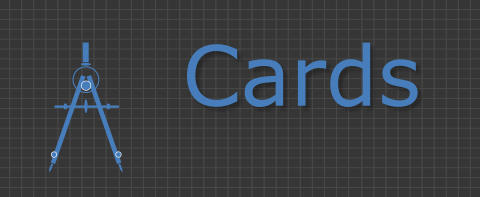 Hand made greeting cards for all occasions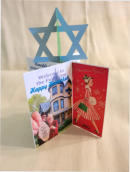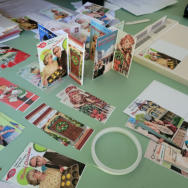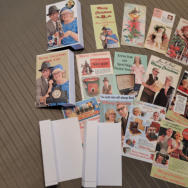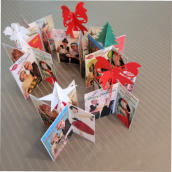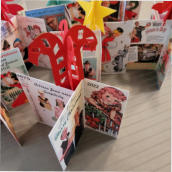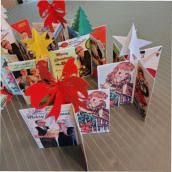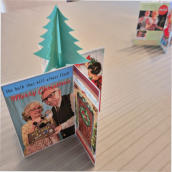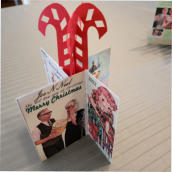 We made this stand up card for Christmas 2022. Made a total
of 110 cards. We made Christmas ADs from the 1950's of us.
Christmas Video Card 2022